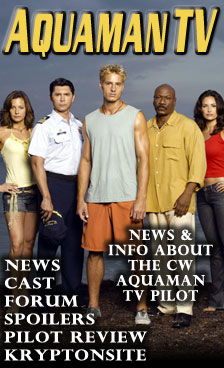 E-mail news tips to PlanetKrypton@aol.com
Aquaman is copyright ©2006 DC Comics. Aquaman appears monthly in comic books published by DC Comics.
Smallville, Mercy Reef and those characters are copyright ©2006 Warner Bros. & DC Comics. This is a fan site and not authorized by the WB or DC. Page copyright ©2006 KryptonSite, unless the material is noted as coming from someplace else or being by an individual author.
AquamanTV can be reached at AquamanTV.com and is mirrored at MercyReef.net.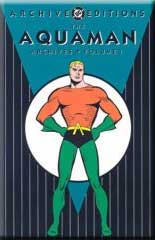 Aquaman TV Pilot: Mercy Reef: The Cast

Justin Hartley
Arthur Curry ("A.C.")

Playing Arthur "A.C." Curry, aka Aquaman, is 28-year-old Justin Hartley, a familiar face to fans of the NBC soap Passions.

You can find a lot more information and pictures of Justin at Justin Hartley Online. We'll try and have a more complete bio up soon. Justin is married to his former Passions co-star Lindsay Hartley (nee Korman), and the two have a young daughter, Isabella Justice Hartley.

Ving Rhames
McCaffery

Award winning actor Ving Rhames has been cast in the role of McCaffery, a lighthouse keeper who also is A.C.'s mentor.

Rhames was born in 1959 in New York City, and is best known to movie audiences for his roles in Pulp Fiction and the Mission: Impossible movies. On TV he played the title role in te USA Network's Kojak remake, and took home some awards for his portrayal of Don King in a HBO miniseries.

One of his early roles was an episode of The Equalizer, and that automatically makes him cool in our book. He's also been seen in several episodes of ER, and dozens of movies.

Denise Quiñones
Lt. Rachel Torres

Denise Quiñones, who was recently seen in the Smallville episode "Vengeance" as Andrea, the "Avenging Angel," will be hanging out with another future superhero soon as she has been cast in the role of Rachel, a young fighter pilot who is a potential love interest for the A.C. character.

Some character breakdowns for "Rachel Starling" have surfaced on the Internet; these were written in November 2005 and are not reflective of the final version of the character. Rachel also has a new surname - Torres.

Quiñones was crowned Miss Universe in 2001 after being named Miss Puerto Rico the same year. Denise was born in Ponce, Puerto Rico on September 9, 1980.

Smallville "Vengeance" Gallery - featuring Denise Quiñones

You can read more about Denise and see a whole lot more pictures at Denise-Quinones.com.

Lou Diamond Phillips
Tom Curry

Lou Diamond Phillips, who was last seen on The WB in the series finale of Jack & Bobby, will be playing A.C.'s father, Tom Curry, who we believe is an officer with the Coast Guard.

Phillips is known for a wide range of TV and movie work over the last 20 years. He was also a one-time Tony Award nominee. Major film credits include Young Guns, Courage Under Fire, La Bamba, and Stand and Deliver. He appeared in the SciFi Channel miniseries The Triangle, so he should be used to Bermuda Triangle weirdness by now.

Rick Peters
Brigman

Rick Peters has joined the cast in the role of Brigman, a man who is quite curious about what exactly is going on with the mysteries that have come from and disappeared to the Bermuda Triangle.

Peters is also familiar to the Millar/Gough DC Universe, as he appeared as one of two persuasive former salesmen in the first-season Smallville episode "Hug."

39-year-old Peters' other credits include episodes of Close to Home, CSI, CSI: Miami, and Veronica Mars.

(Thanks to K.C. and Kryppy for finding the new photo!)

Amber McDonald
Eva

Amber McDonald will be playing A.C.'s best friend, Eva, in the Aquaman pilot.

Some of the background of the character seems to have changed over the development of the series, but what we do know for sure is that Eva and A.C. have known each other for a while.

Amber was raised in Key West, Florida, and has been acting since she was very young, performing at her parents' theater, The Red Barn. She's a graduate of Boston University, where she received her BFA in acting. She also studied at the London Academy of Music and Dramatic Arts.

McDonald performed on the New York stage in such shows as Love in the Age of Narcissism and No. 11 Blue and White.

Amber's previous television credits include As The Word Turns, Guiding Light, and a 2005 episode of Law & Order: Special Victims Unit. Film credits include Searching For Bobby D., You Tell Me, Lay Me Down, Hide and Seek, and Perfect Match.

(Special thanks to the "You Tell Me" movie information site for biographical information)

Daniella Wolters
Atlanna

Playing the role of A.C.'s Atlantean mother, Atlanna, in the soon-to-be-filmed pilot episode will be Daniella Wolters, sometimes credited as Daniella Deutscher.

Previous credits for Ms. Wolters include playing the lead role of Julie Connor on the NBC series Hang Time, and guest shots on 24 and Las Vegas. She was also at one time a model in Japan.

Click here to see two current images of Daniella Wolters in our AquamanTV gallery

Graham Bentz
Young A.C.

Graham Bentz will be playing Young A.C. in flashback sequences. IMDb lists an episode of Judging Amy as one of his previous credits.

He was cast last year as a regular on the NBC/WB pilot Deal (also known as All In) which never aired.

He has also done several commercials and his voice has been used in Disney projects including the upcoming video Brother Bear 2.

Click here to see a larger image of Graham Bentz in our AquamanTV gallery

Adrianne Palicki
Siren/Nadia

Playing a "siren" named Nadia in the Aquaman TV pilot will be Adrianne Palicki, who fans of Smallville might remember as proto-Supergirl "Kara" in a third season Smallville episode.

Recent credits for Adrianne include an appearance on Supernatural. She first got fan attention by being cast in the WB's Lost in Space: The Robinsons pilot, which never aired. Recently, she was also seen on UPN's South Beach.
More Cast Announcements Coming Soon.